VAX Emulation for OpenVMS
Have you wished that you could transparently replace your legacy VAX systems with industry-standard hardware while keeping your OpenVMS applications as-is?
Are you concerned about the reliability of your existing hardware? The expense of maintaining it?
Would you like to get significantly improved performance from both the system and the network?
Do you need a disaster recovery solution for your existing VAX systems without having to buy used hardware on eBay?
Do you need to increase the capacity of your existing system to handle your growing business?
If so, we have the solution for you! Software emulation of the VAX system hardware allows you to use industry-standard servers as a drop-in replacement for your VAX servers and workstations. From the perspective of your application software, and even the operating system, there is no change. No porting. No application replacement. No user re-training.
Quayle Consulting Inc. (QCI) uses the state-of-the-art Charon-VAX emulation software to provide a modern replacement for your VAX hardware.
Beginning with a free consultation, an HP-certified OpenVMS Systems Engineer will work with you from start to finish to provide an integrated solution that fits your needs with minimal disruption to your daily operations.
Why Emulate Your VAX System?
The legacy VAX hardware presents several issues. Let's see how emulation addresses some of the most common:
Reliability

Failure rates increase as the hardware ages, especially for mechanical components such as disks, tapes, and fans. Replacement parts are increasingly difficult to locate and may be unreliable. Disk and tape failures present a risk of loss of business-critical data.

Charon VAX emulation runs on industry-standard hardware that is reliable as well as fast and inexpensive to maintain. Storage subsystems have greater redundancy. Backups can be saved on network disk storage instead of tape.

Hardware Footprint

The large footprint of these systems is increasingly more challenging to accommodate in modern data centers. Here is an example.

Charon runs on the same hardware as the rest of your data center, including blade servers and VMware virtual machines – and even in the cloud.

Operating Expense

The legacy hardware requires large amounts of power and cooling. The cost of hardware maintenance and replacement parts is soaring.

With Charon emulation, the hardware maintenance costs are comparable with other servers.

Performance

The VAX hardware is several decades old. The CPU, disks, and network are slow compared to modern equivalents.

Running Charon-VAX on an industry-standard server, most users will experience significant performance improvement. Network transfers alone may be up to 10x faster than on the legacy VAX.

Modernization Cost

The alternatives to emulating your VAX system hardware include porting your existing applications to a new hardware architecture, or migrating your business processes to new applications. Both of these are expensive, time-consuming, and risky.

With Charon emulation, you keep using the same operating system and applications; the code and data are copied from your current system to the new virtual VAX. There is no need to re-train users, who may not even be aware there was a change – unless they notice the system is running faster! The implementation time can be a matter of days and is often mainly driven by the testing requirements.

Because there are no software changes, the need to re-validate regulated systems can be eliminated or reduced.

Expansion Capabilities

It may not be possible or feasible to add new VAX systems for business continuity/disaster recovery purposes or to add capacity as your business expands: hardware may not be available or may be too expensive, the data center may not allow adding more legacy hardware, or you may be required to run in the cloud.

Because Charon runs on the same hardware as the rest of your data center, these are not issues for an emulated VAX system. You can even run Charon-VAX on a laptop system if portability is desired.

Server Downsizing

When applications are migrated to other platforms, it may be necessary to maintain the original platform to access historical data for regulatory requirements, such as Sarbanes-Oxley (SOX) and FDA, or customer support purposes that do not require large servers.

With Charon-VAX, you can create a much smaller virtual system to access the legacy data. The savings in operating costs may pay for the emulated system in a short time.
How it Works: Lift and Shift
It's called "Lift and Shift". The original hardware is in orange. The Charon solution is in dark blue. Charon runs on an industry-standard server or in the cloud. You have a choice of Windows or Linux for the server's operating system.

Everything in light blue shifts directly on the top of the Charon solution with absolutely no changes.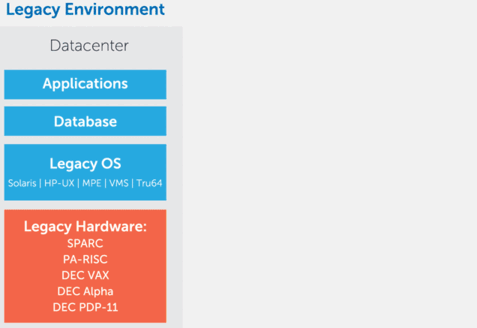 The Charon software emulates the hardware present on your legacy system and translates the Classic OS's devices to utilize the host system resources.
Software licenses for the operating system and 3rd-party products, such as Oracle Rdb, can be transferred directly to the virtual VAX system without changes.
Networking
Charon VAX uses industry-standard host Ethernet adapters. TCP/IP and legacy network protocols, including DECnet and clustering, are supported.
Storage
The virtual system may utilize local, network, or SAN storage on the host server.
Getting Started
As one of a handful of authorized Charon resellers positioned around the globe, Quayle Consulting Inc. offers full Charon VAX integration services. All of our services are provided by HP Certified OpenVMS System Engineers with the expertise and experience to keep your most critical system up and running – now, and well into the future.
Our services are available on a per-call, per-project, or retainer basis to help keep your system and your budget in check. We can work on-site or remotely.
Let us help you design and develop a faster, more reliable system using VAX Emulation TODAY!
To select the appropriate Charon-VAX product, please download and run the inventory script.
For more information on Charon-VAX and OpenVMS, click this link.